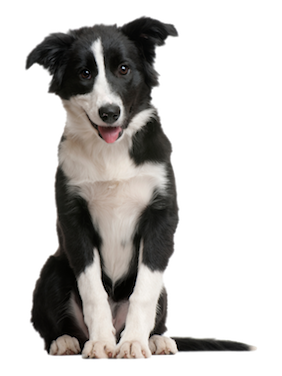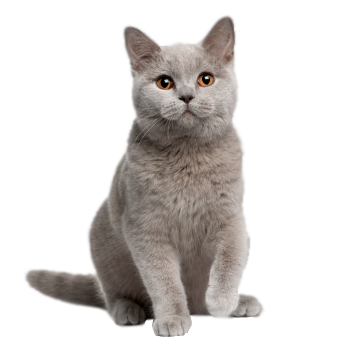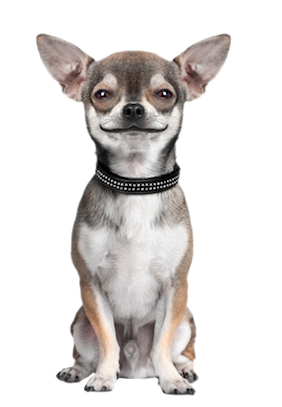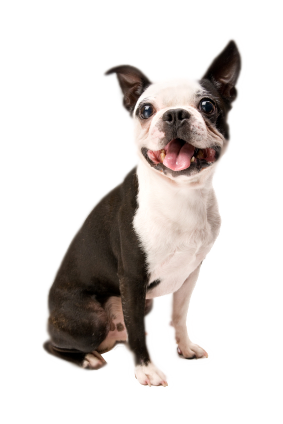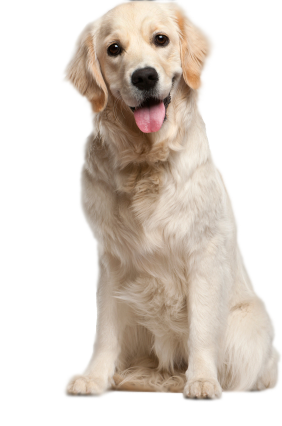 Welcome to
Andermann Animal Clinic!
Our clinic was founded in 2013 by Dr. Leslie Andermann and we are the fastest growing veterinary facility in Ascension parish. We are a small animal general practice located in Gonzales, Louisiana (approximately 30 miles south of Baton Rouge). Our practice scope is limited to companion animals (Dog and Cat). We currently have a rotating staff of 4 veterinarians to handle all of your pets' medical needs. Along with our wonderful vets, we have large team of support staff that truly love caring for animals. Our practice culture is light-hearted and personable, and our veterinarians are known for their communication and kindness. When a medical issue arises out of our capabilities, we work closely with all local emergency and referral hospitals to ensure your pet receives the highest standard of care. Dr. Andermann, Dr. Hackney, Dr. West, Dr. May, and the entire staff invite you to be a part of the AAC family!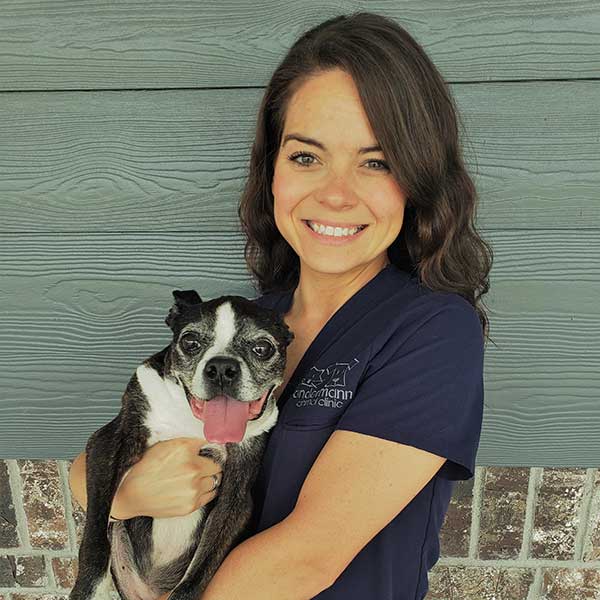 Dr. Leslie Andermann
Dr. Leslie Andermann is a Gonzales native and grew up in the Brittany/Burnside area. After graduating from St. Amant High School in 1999, she attended LSU and earned two degrees, in 2003 for her bachelors in Biology, and then again in 2008 with her doctorate from LSU School of Veterinary Medicine. Dr. Andermann has experience in emergency medicine, high volume surgery clinics, and general practice medicine. After living out of state for several years, she came home to Gonzales to open Andermann Animal Clinic in January of 2013. She served as president of the Baton Rouge Area Veterinary Medical Association from 2015 to 2017. Dr. Andermann is very proud to be a part of this wonderful community and she loves getting to build lifelong relationships with her clients and their animals. Her main goal of opening this practice was to bring next-level medicine to the area, combined with compassion and honesty. These days, she spends most of her time behind the scenes of the hospital focusing on administrative duties, managing the hospital, and helping out with overflow cases.  Making sure the clinic runs smoothly and keeping the relationship strong between the clinic and clients are her major areas of focus. Dr. Andermann has worked hard to assemble a great team of doctors to help continue her vision of high quality medicine combined with compassionate care.
When not at work, Dr. Andermann spends time at home with her husband Tommy and their three sons, George, Teddy, and Jack. Dr. Andermann has one very old and sweet Boston Terrier named Miss Flea, and two dogs in heaven (Toby and Louis). Being a practice owner and a mom are her two greatest accomplishments, and she is thankful every day for her husband, family, and amazing employees who make it all possible.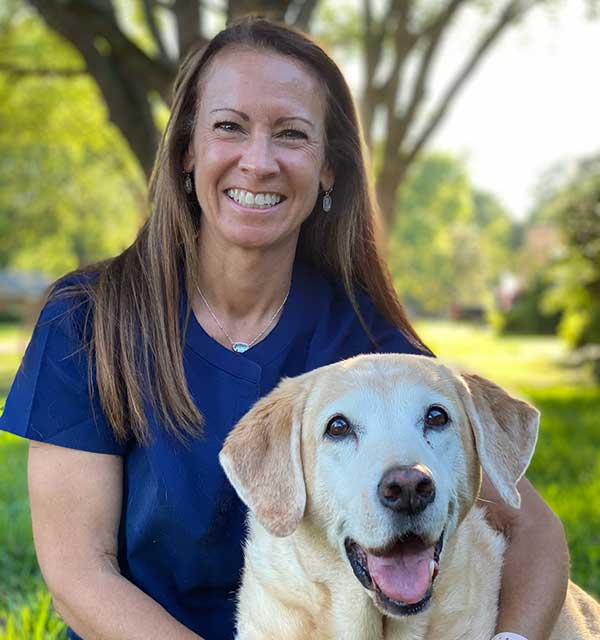 Dr. Julie Hackney
Dr. Julie Hackney has been with Andermann Animal Clinic since shortly after the 2016 flood.  She was born and raised in New Orleans, but has lived here in Gonzales for the last 20+ years. She graduated with her doctorate from the LSU School of Veterinary Medicine in 1998. She has been in practice for more than 20 years and has worked in practices from Monroe to Denham Springs. Outside of her dedication to work, she enjoys spending time with her husband Greg and their four children: Drew, Luke, Hannah, and Sarah.
Here at the clinic, Dr. Julie is known for having the best bedside manner, with patient care being her greatest strength. She treats every patient like it's her own, always going above and beyond to make sure they are comfortable and well taken care of, along with taking the time to properly educate the owner as well. Her sincere, upbeat, and caring personality makes her a joy to be around. Ask anyone who knows her, and they can attest to how much heart and soul she gives to every one of her patients. It is a true calling for her.  All of these qualities gave her the title of "mom" of the clinic, as she always makes sure everyone is doing well and keeps things running smoothly.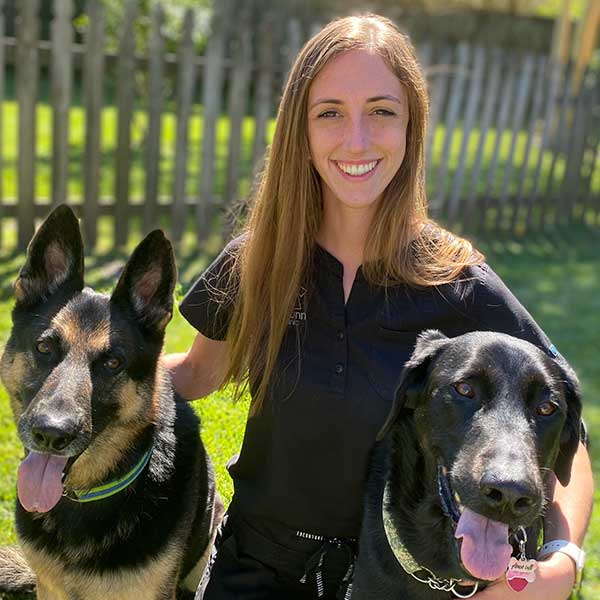 Dr. Jennifer West
Dr. Jennifer West grew up in Louisiana and earned both her Bachelor of Science degree and Doctorate in Veterinary Medicine from Louisiana State University. While still in school, she actually worked for Dr. Andermann as one of her veterinary assistants when the clinic first opened. After getting her veterinary license, Dr. West moved to northeast Georgia and worked in a small animal practice for 3 years, after which she and her husband returned to their home state. We are so honored that she came back to work for us as an associate veterinarian! Her vast clinical knowledge combined with impeccable work ethic have elevated our level of care.  Her calm demeanor and professionalism in every situation have set precedents that we all strive for.  Dr. West enjoys all aspects of veterinary medicine, but she does have particular interest in surgery and dermatology. When not at work, Dr. West enjoys doing DIY projects and being outdoors fishing and hiking with her husband, Drew, her daughter Cecelia, and her dogs, Jax, Mabel, and Isla.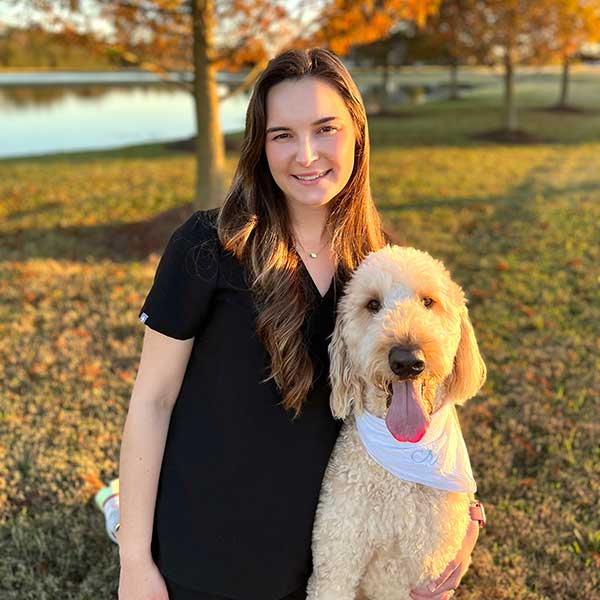 Dr. Mackenzie May
Dr. Mackenzie May was born and raised in Baton Rouge. She completed her undergraduate studies and veterinary school at LSU.  After receiving her Doctorate of Veterinary Medicine in 2020, she joined our team at AAC. Dr. May has had compassion for all animals from a young age, but she became a veterinarian because she loves forming deep connections with people by caring for their pets. Dr. May is known for her perpetual positivity and effervescent disposition, which uplifts the clinic as a whole. Since joining our team, Dr. May has developed an amazing clinical and surgical skill set that has set her far above her veterinary classmates. Her passion for learning and soothing bedside manner make her a wonderful veterinarian. Dr. May's special interests include dermatology, soft tissue surgery, preventative care, and all things related to doodles! When she is not at the clinic, she enjoys spending time with her husband and their doodle, Crew. Her favorite things include baking, quality family time, and traveling.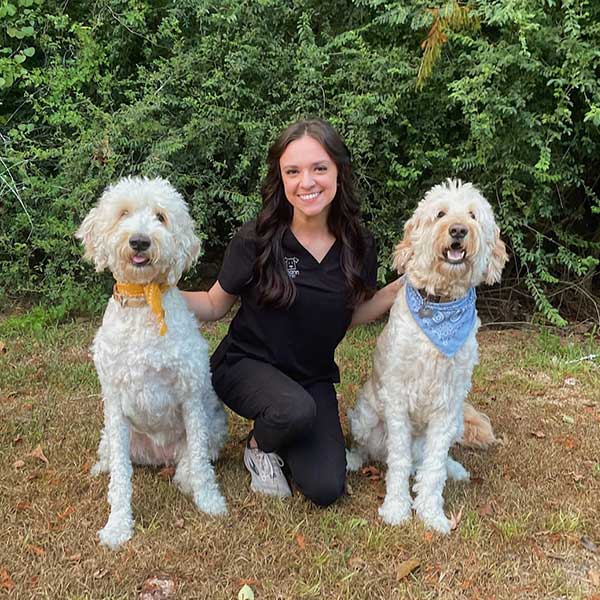 Katie
Katie is originally from Crowley but moved to the Gonzales area to graduate from Louisiana State University with her Bachelor of Animal Science in 2019. Katie has been with our clinic since 2016 and is currently our longest running employee! She is a senior technician and member of our management team. Katie is in charge of scheduling and always has her thumb on the pulse of the clinic. At any given moment, she can tell you what is going on with every aspect of the hospital. She thrives at helping to control the work flow and is a champion at organizing the chaos of a veterinary clinic. She is also one of our best anesthesia technicians and enjoys training staff in the surgery room. She has a great attitude and is always willing to help with any task. In her downtime, she enjoys spending time with her husband and two goldendoodles (Leonard and Bonnie), and traveling.
"Honestly, the best part about being a part of Andermann is getting the opportunity to assist our doctors in diagnosing and healing, learning new things every day, as well as getting to love on every patient that comes in."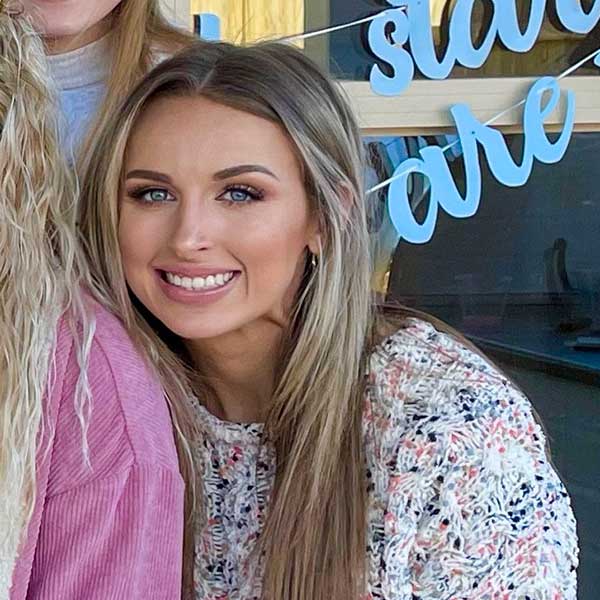 Logan
Logan is originally from the west bank of New Orleans but moved to Ascension parish with her family after Hurricane Katrina. She joined our Andermann family in 2017 and currently is our second longest running support staff. She is a senior technician and a member of our management team. She excels at details, and has greatly streamlined our pre-surgical protocols. She is also an excellent anesthesia technician, and helps keep the surgical area and doctors running efficiently at all times. She is an amazing cat handler and is glad to help out with any feline case. Logan also has a great sense of humor, and regularly keeps the staff giggling with her personality. On her off time she enjoys binge-watching her favorite shows, spending time with friends, and cuddling her own cat, Tipsy. 
"My favorite part of my job is getting to do what I love, learning new things from the doctors, while also having fun."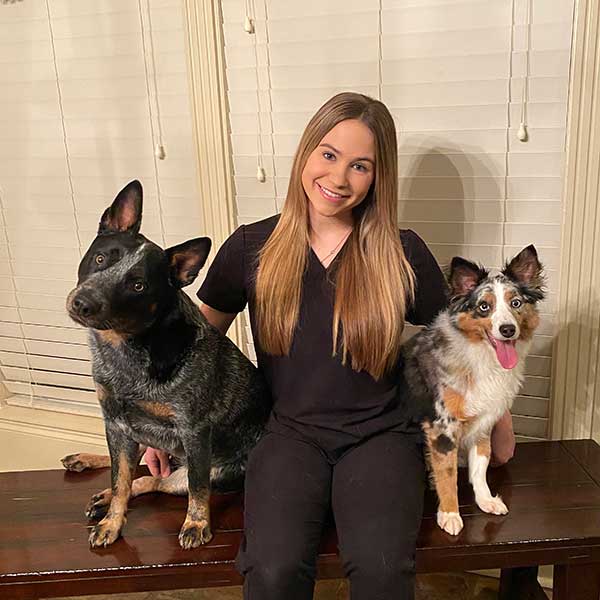 Makki
Makki was born and raised in Gonzales, Louisiana and still currently resides there. Makki began working at Andermann Animal Clinic in the year of 2020. Her life would not be the same without the company of the Andermann patients. She does whatever necessary to make sure the patients receive the best care possible. One of her favorite parts of the job is monitoring in surgery, which she does on most days that she is at work. She stays on her feet all day, and there's not a time when she isn't working hard. Her passion for animals keeps her going.  When Makki is not at work she is caring for her own dogs and cats at home. She also enjoys spending time with her family and being outdoors. The most rewarding thing for Makki is to see that the patients get to return to their loving family pain free and feeling their best.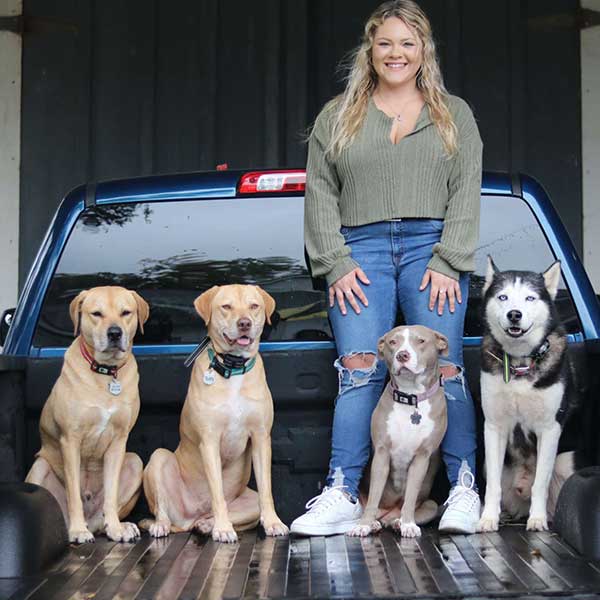 Lexie
Lexie was born and raised in Garyville, Louisiana and still currently resides there. Lexie has been an integral part of our team since starting in October 2020. She is one of our head techs, and she is also an anesthesia technician. Lexie is superb at reading animals and figuring out the best way to strategically navigate an appointment with patient comfort and safety being her top priorities. Lexie is one of our go-to feline handlers and has the skill to temper down even the most fractious pets, resulting in a calm and safe visit for all. She is a very hard worker and handles the toughest of schedules with stride. When not at work, Lexie is an avid bowler and plays on a tournament team with her family. Lexie also loves to spend time outdoors with her four dogs: Budda, B, Buddy, and Harley Jane. She also has a sweet cat named Romeo. Her best friend in the whole world is her grandmother Brenda and they love to spend time together fishing/crabbing near their home.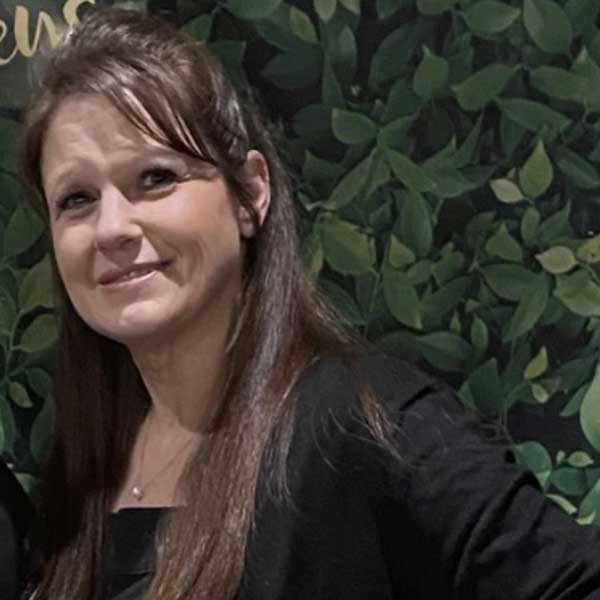 Heather
Heather is from Baton Rouge, LA but currently resides locally in Gonzales. She is our amazingly talented and joyful receptionist. She brings over 20 years of veterinary reception experience to our clinic and we are so lucky to have her. Heather has one of the hardest jobs in the entire clinic but she handles it effortlessly and with constant professionalism. When not at work, Heather stays busy being a wife, mom, and Nana to her two awesome grandbabies. Heather has more pets at home than she would ever admit (LOL), but hands down has the cleanest house you have ever seen. She never stops and always gives everything 100%!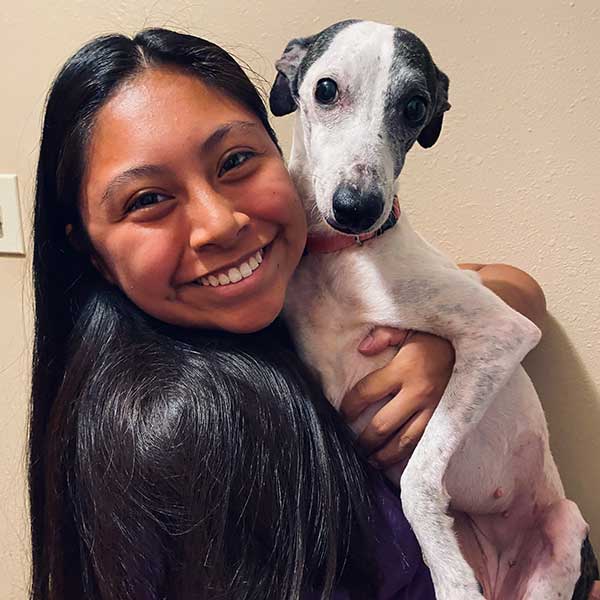 McKinzey
McKinzey is from Prairieville, La and a full-time student at Louisiana State University. She is part of the Pre-Vet club and the Animal Care for a Cause Club at LSU. She teamed up with Andermann Animal Clinic in 2021. McKinzey has a smile that never quits, and always brings a positive attitude to every situation. She has become a very handy technician and  is always willing to work hard. When she's not at the clinic, she spends weekends volunteering at a wildlife rehabilitation sanctuary in Livingston, spending time with friends and family, and loving on her cat, Molly, and two dogs Blue and Sweetie. 
"The best part of working at AAC is having the opportunity to learn from the doctors on treating animals and diagnosing them while also getting to know and love on all the pets that come in."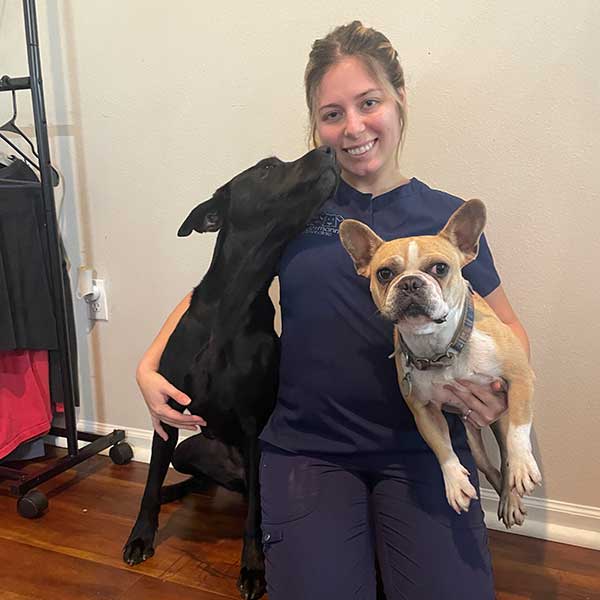 Kenzie
Kenzie is originally from Thibodaux but lives in Prairieville now and attends LSU full time. She joined our staff in May of 2021. She has grown into an amazing technician and she also is phenomenal at customer relations. Kenzie always comes to work with a sweet smile and upbeat attitude. She has a big heart for all animals and if we let her, she would adopt every one that comes in the door! Other than working here Kenzie enjoys spending time with family, friends, and her pups.
"At Andermanns I enjoy taking care of patients and helping the Doctors in any way I can!"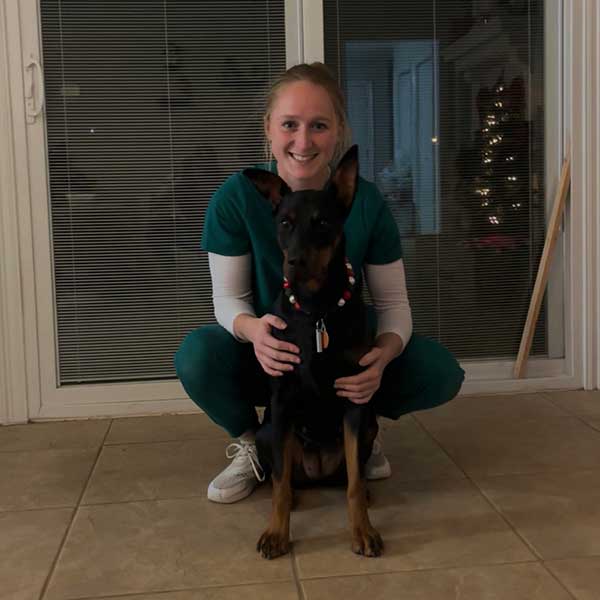 Nyah
Nyah is originally from Houston, Texas, and moved to Baton Rouge to attend LSU. She is a full-time student pursuing her bachelor's degree in Animal Science/Pre-Vet. She also works in a genetics lab in the animal and food science laboratories at LSU. Nyah joined our staff in April of 2022 and really hit the ground running. She learned fast and has become one of our best techs! She is intelligent, sensible, and has a calm demeanor which translates very well with all animals.  When she is not studying or working she loves playing with her dogs (Sedona and Sergeant) and going to the gym to work out.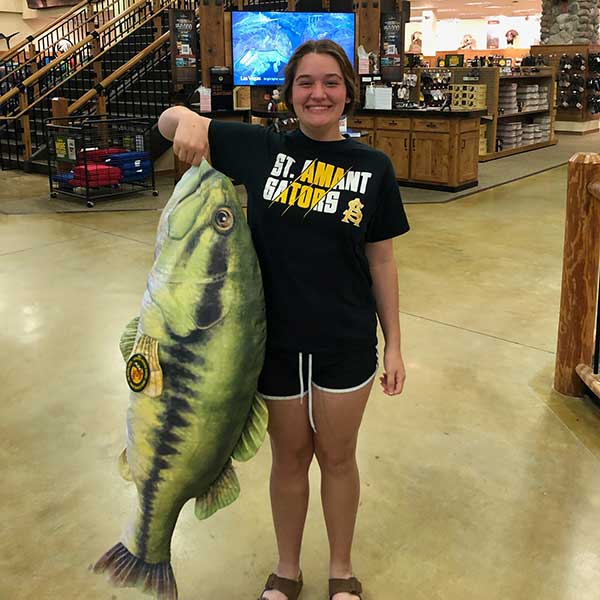 Carolyne
Carolyne is a true Gonzales native and graduated from St. Amant High School. She joined our staff in the summer of 2022 and has proven to be one of the kindest people on our team.  She is a hard worker and shows up with a big smile for each shift. She truly cares for all animals and always strives to make every pet feel at home. Her technical skills have grown tremendously over the past year and we have watched her excel in every way. We are proud to say that Carolyne has been accepted to Baton Rouge Community College's Veterinary Technician program and will continue working towards her dream of being a licensed Veterinary Technician concentrating on exotic animals.  She has a dog named Duke and two leopard geckos: Ren and Sam. When not at work, Carolyne likes to go shopping, hang out with family, and spend time with her boyfriend.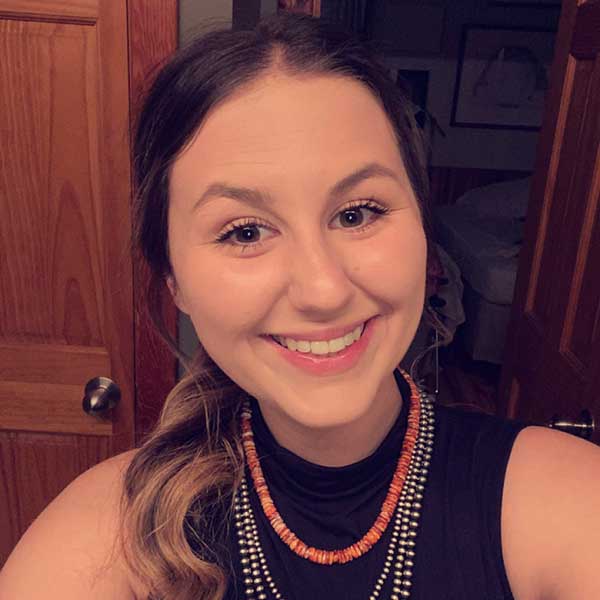 Cheyenne
Cheyenne is a native of St. Amant, Louisiana and has been with our staff as a seasonal employee since May of 2022. She is a quick learner and has evolved her skill set ten-fold during her time with us. She has wonderful bedside manner and excels at client communications. She attends college at Mississippi State University, majoring in Animal Science/Agriculture but lucky for us she comes home on semester breaks and is always available to pick up shifts.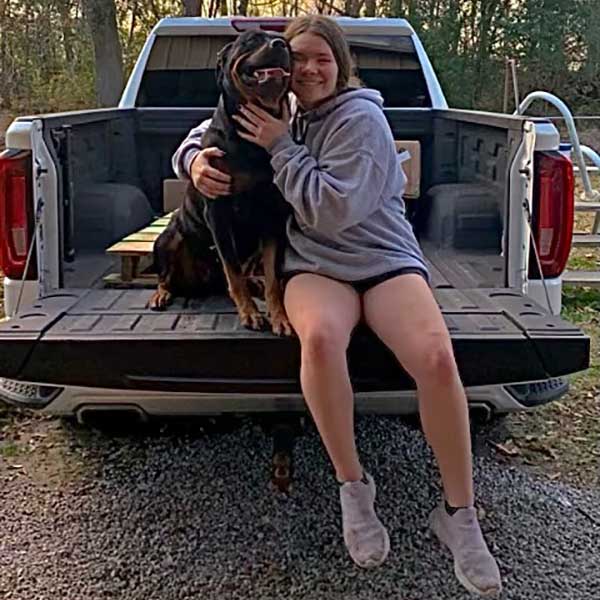 Chloe
Chloe is from Hester and currently lives in Gramercy. She joined our team in March of 2023 and is continuing to grow her veterinary knowledge. She has a light-hearted personality and loves being around animals. Chloe has three dogs: Ginger, Myla, and Blue. In her spare time, she likes to rest, ride ATV's, fish, hunt, and take trips to Grand Isle. Her favorite part of working here is seeing all of the cute dogs and meeting new people.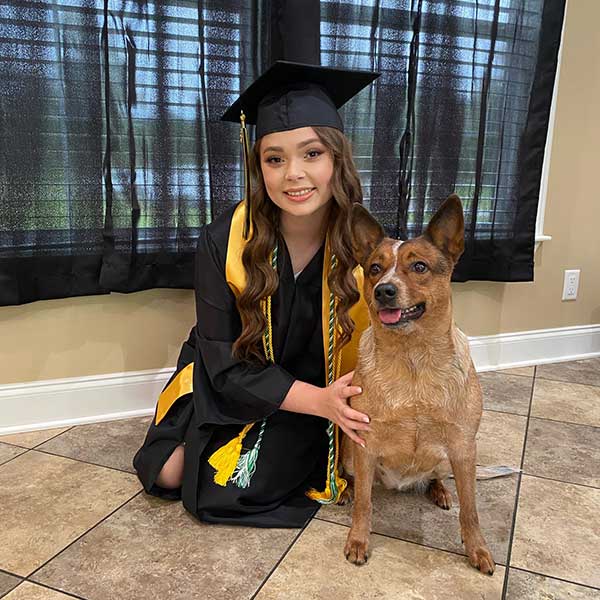 Tobie
Tobie is from St. Amant, LA and is currently a full time student at River Parish Community College. She is majoring in General Studies but is considering a career as a Veterinary Technician. She raises livestock with her family and that has given her tons of skills that she can apply at our clinic. In her spare time, she likes to sleep and she loves her dog Chica.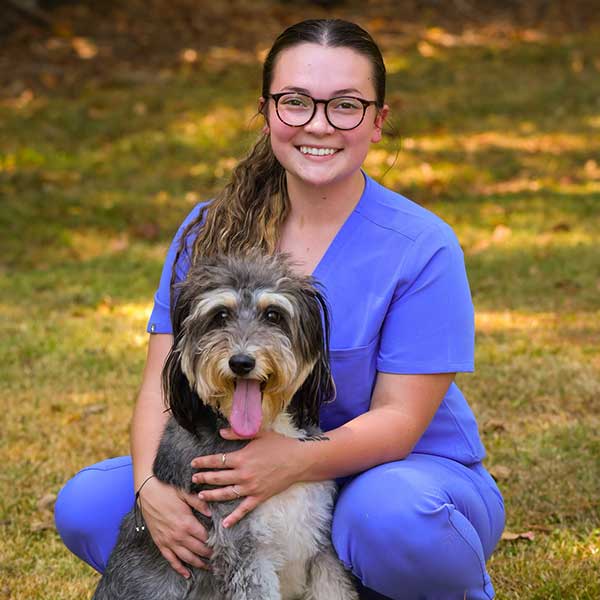 Rachel
Rachel is from Port Allen, LA and is currently a full-time student at LSU majoring in Animal Science. Her dream is to attend veterinary school and specialize in large animal medicine.  Rachel joined our staff in late summer 2023 and is learning very fast! She has a go-getter attitude and is up for any task handed to her. When not at work, she loves spending free time with family, friends, and her dog River. She also enjoys listening to music and traveling.
We are proud to provide the following services:
Annual Health Exams
Vaccines
Preventative Health Care
Dental Health Care(Including scaling,polishing, and tooth extractions)
In-House Laboratory (Blood Chemisty Analysis, Complete Blood Counts, Parvovirus Testing, Urinalysis, Fecal Screening, Cytology, etc)
Digital Radiography
General Surgery
We are proud to carry these brands (and also a few others not listed):
Interceptor Plus
Imoxi Topical Solution
Simparica Trio
Nexgard
Pro-Heart Injectable (6 and 12)
Profender Topical Dewormer for Cats
Revolution Plus for Cats
We encourage you to consult with our veterinarians to determine the best preventative protocols for your pet.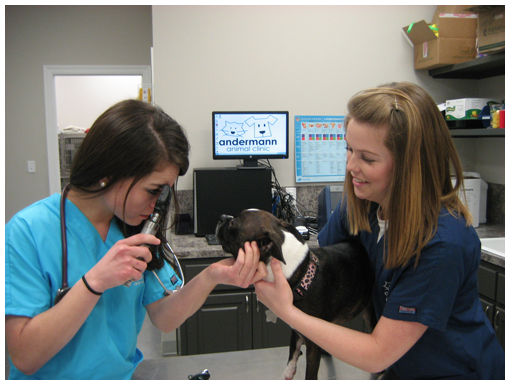 Educational Resources
Other Helpful Websites for Pet Owners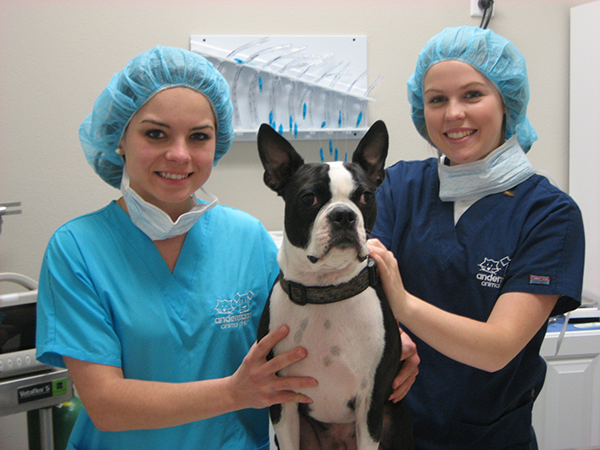 We would love for you and your pet to become part of our "extended furry family". At our clinic – we believe in building lifelong relationships and strive to always provide quality health care combined with compassionate customer service. We know that you have many options when choosing a veterinary health care provider, and we truly appreciate you allowing us to care for your pets.
Please click on the link to download our new client information form. Bring it with you on your first visit along with any other medical records that might be of importance.
While we hope you or your pet is never in need of emergency services – We understand that some issues arise suddenly and need immediate care. If you have an emergency during our regular office hours – please come to our clinic immediately – If you can, please call ahead so we can better prepare for your arrival.
If your pet has an emergency after hours – Please seek immediate assistance at one of these hospitals:
"Switching veterinarians is always hard especially when you have elderly pets a d those with special needs, so when I decided to switch I wanted to visit the newly opened Andermann Animal Clinic. Dr. Leslie showed me around and made me feel very comfortable to switch to her clinic since it was so close to my home. This summer I had a pet emergency with my Lizzie and Dr. Leslie listened to me during my "freak out" moment of panic and got me and my Lizzie in immediately only to discover she was very sick and needed to go to the pet hospital. She called me everyday to check on my baby, this made me feel so good and just confirmed what I already knew! That I had made the right choice by switching my furry family's care to the Andermann Animal Clinic. She truly loves what she does and it shows in how she treats her clients with and without fur!!"
~ Denise Fontenot
"Andermann Animal Clinic is the best place to take your furry family members. Dr. Andermann & her staff are caring, friendly, patient, and loving people who've made me feel very comfortable when it came to leaving my fur-baby in their care. We love Andermann Animal Clinic!"
~ Tricia Crago & Peanut Butter
"We transferred our fur babies to Andermann Animal Clinic with the hope that our babies would be well taken care of and loved instead of just another animal in need of care. Dr. Andermann and her staff have taken excellent care of our babies from routine shots to the hard decision of having to say goodbye to our sweet Cleo. Thank you for all you have done for us. We will be loyal customers for years to come."
~ Chris and Allison Dickerson
"My Yorkie is not just a dog she is my child. I trust Andermann Animal Clinic with her life. Very helpful and friendly staff and wouldn't go anywhere else!"
~ Lori Zeringue
"Andermann Animal Clinic exemplifies all of the qualities a pet owner could ever want from an animal clinic. Dr. Andermann always keeps the animal's best interest in mind while using her expansive veterinary knowledge to solve the problem. Dr. Andermann and her staff have treated myself and my dogs with the utmost respect. Thank you for the wonderful service you give to our community!"
~ Amy C. Duplessis
©2023 Andermann Animal Clinic